During The Holiday Season, Mahindra Tractor Has Many Offers With Attractive Discounts
Mahindra & Mahindra is organizing a Kisan Mahotsav for the farmers. During this festival, many fantastic deals on tractors and other agricultural implements are being made available to farmers from across the country.
Mahindra products are being offered with a swing of benefits this holiday season, including the best prices, attractive exchange offers, a low down payment, and low-interest rates. If you are a farmer, you should take advantage of Mahindra's special offers.
Mahindra has offered many great offers to the farmers of Uttar Pradesh
Farmers in Uttar Pradesh can get discounts of up to Rs 30,000 on Mahindra Tractors and Rotavators, according to Mahindra & Mahindra Tractor dealership information. Farmers have been given the best combo offer on Mahindra Yuvo 575 DI and 475 DI Tractor with Implements at attractive prices under Mahindra Kisan Mahotsav.
By purchasing a rotavator along with a tractor, you can save up to Rs.30, 000. Aside from that, Rotavator can save you up to Rs.30, 000 on Mahindra 275, 575, and 475 DI TU XP Plus tractors.
Read more: Polyhouse agriculture: A golden opportunity to receive a government subsidy of 75%
For more information contact the dealership 
For information, let us tell you that under the Mahindra Tractor Kisan Mahotsav offer, the prices of tractors do not include accessories, RTO registration, or insurance.
Farmers will get the benefit of this offer through Mahindra dealer is also valid for a limited period.
Certain terms and conditions are also applicable to this offer. The company commented that for information related to T&C, farmers of the state can contact their nearest dealership.
Apart from this, if you want to know more about the related offers, then you can get Mahindra Company's toll-free number from their website.
Read more: Kirloskar Industries Will Sell Its 17.41 Percent Stake In Swaraj Engines To Mahindra & Mahindra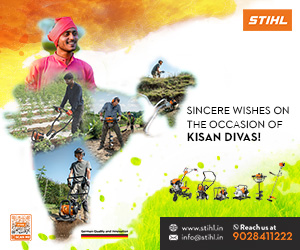 Tractors by Brand