Case IH Releases Upgraded Hay Balers In Response To Farmer Requests
Case IH has announced upgrades to their long-running small square and round baler series, as well as a new Pro series of round balers.
"Every addition or upgrade we've made has been driven by what growers want and need from their hay equipment," says Brian Spencer, Case IH's marketing manager for hay and forage equipment. "With this new, customer-focused lineup, Case IH is proud to offer a suite of hay tools for every type of operation."
LINEUPS FOR ROUND BALER
The RB6 HD Pro series of balers is the most recent addition to Case IH's hay tool lineup. This series is built to handle wet and heavy silage, as well as higher annual bale counts than other Case IH baler models. The RB6 HD Pro can run at higher speeds and has fewer moving parts and chains, requiring less maintenance.
The Pro series also includes a new heavy-duty drive system and the main gearbox. It also has an 82-inch wide 5-bar pickup. Farmers can now set core and outer bale densities separately from the cab.
Read more: Case IH and Raven Industries Introduces the Agriculture Industry with 'Case IH Trident 5550 Applicator'
Outside of the pro series, round baler models have also been upgraded. The RB565 Premium now comes with a heavy-duty drive option, which includes larger chains and sprockets, a larger main gearbox, and a higher capacity cutout clutch.
The RB456A, designed for lower-count bale producers, has a 30% wider pickup, a stuffer feeding system, and wrapping system upgrades.
LINEUP OF SQUARE BALER
SB small square balers have received some "smart" features to improve bale length consistency and data tracking.
The new small square electronic bale length control system option is intended to improve bale length consistency and make transportation of uniform bales easier. Case IH also provides the option to track more personal data such as bale count, average flakes per bale, bale length, bales per hour, and more.
Read more: IoTechWorld Avigation Will Produce 100% Indigenous Drones, Benefiting Farmers While Lowering Prices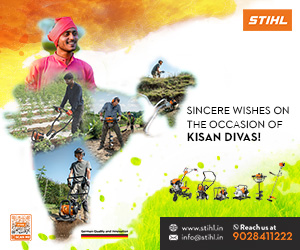 Tractors by Brand