IoTechWorld Avigation Will Produce 100% Indigenous Drones, Benefiting Farmers While Lowering Prices
See How IoTechWorld Avigation Will Benefit Farmers 
IoTechWorld Avigation, a leading Kisan Drone (Agricultural Drone) manufacturer, expects a multifold increase in both value and volume in the current fiscal year, buoyed by the drone sector's exponential growth potential. The Gurugram-based company hopes to sell over 1,000 Kisan Drones in 2022-23 and capture the majority of the drone market, which is expected to reach Rs. 5000 crores by 2025-26.
The country's first type-certified drone manufacturer is in advanced talks with investors to raise funds to support its expansion plans. The funds would be used for growth. Last year, Dhanuka Agritech, an agrochemical company, invested about Rs 30 crore in the drone technology company. The Government of India has selected IoTechWorld Avigation for the Production Linked Incentive (PLI) scheme for drones and drone parts.
AGRIBOT Drone 
IoTechWorld Avigation's 'AGRIBOT' drone is a multi-purpose Kisan drone that can be used for pesticide spraying, granule distribution, and crop health monitoring. Deepak Bhardwaj and Anoop Upadhyay, co-founders of IoTechWorld Avigation, described the company's growth strategy and key milestones.
IoTechWorld's DRASS mobile app helps small and marginal farmers gain access to drone services, as well as new entrepreneurs, gain clients. The company has introduced the "Bike Back Drone" model with new Lithium Ion batteries to reduce drone operating costs and increase mobility. The company is establishing an RPTO in collaboration with various state governments (Remote Pilot Training Organization). This will provide a low-cost pilot licensing course.
Read more: Subsidy for Drones: A 50% subsidy will be provided to promote drone technology in agriculture.
To increase employment, IoTWorld Avigation is developing village-level entrepreneurs and service partners. The company has centers in 12 states that assist farmers. Agri Infra Fund can provide financing (loans) to new entrepreneurs. IoTechWorld has launched our DRASS model mobile app, which assists new entrepreneurs in trading as well as small and marginal farmers in obtaining drawing services.
For the convenience of farmer friends, a multilingual user interface in Hindi, Punjabi, Telugu, Marathi, Tamil, and Kannada has been created. To encourage the faster adoption of Kisan drones, the government is offering subsidies ranging from 40% to 100%.
"The growth prospect is enormous," the co-founders said, "and IoTechWorld Avigation, for its avant-garde efforts and vision, is expected to win a substantial share of the Kisan Drone industry." The drone market is expected to reach $30 billion by 2030, according to a recent FICCI-EY report. The agricultural drone industry is estimated to account for 30% of the global drone market.
Read more: "Farmers Don't Have to Afford Expensive Agri Drones" ,Said Smit Shah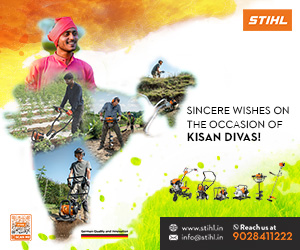 Tractors by Brand