The Mission for Integrated Development of Horticulture (MIDH)
The Mission for Integrated Development of Horticulture (MIDH) is a Centrally Sponsored Scheme for the holistic development of the horticulture sector, which includes fruits, vegetables, root and tuber crops, mushrooms, spices, flowers, aromatic plants, coconut, cashew, cocoa, and bamboo. While the Government of India (GOI) contributes 85 percent of the total outlay for developmental programs in all states except the North East and Himalayas, state governments contribute 15 percent. In the case of the North-Eastern and Himalayan states, the Government of India contributes entirely.
Mission Objective
The main objectives of the mission are:
Promote holistic growth of the horticulture sector, including bamboo and coconut, through area-based regionally differentiated strategies that include research, technology promotion, extension, post-harvest management, processing, and marketing, by each State/comparative region's advantage and diverse agro-climatic features.
Encourage farmer aggregation into farmer groups such as FIGs/FPOs and FPCs to achieve economies of scale and scope.
Increase horticulture production, farmers' income, and nutritional security;
Improve productivity through quality germplasm, planting material, and water use efficiency via Micro Irrigation.
Encourage rural youth skill development and job creation in horticulture and post-harvest management, particularly in cold climates.
Strategy
To achieve the aforementioned goals, the mission will employ the following strategies:
1. Adopt an end-to-end holistic approach covering pre-production, production, post-harvest management, processing, and marketing to ensure appropriate returns to growers/producers;
2. Promote R&D technologies for cultivation, production, post-harvest management, and processing, with a special emphasis on cold chain infrastructure for extending the shelf life of perishables;
3. Improve productivity through quality through:
diversification, from traditional crops to plant varieties;
Provide farmers with appropriate technology for high-tech horticulture, such as protected cultivation and precision farming.
Increased acreage of orchards and plantation crops such as bamboo and coconut, particularly in states where horticulture accounts for less than half of the total agricultural area.
4. Improve post-harvest management, value-added processing, and marketing infrastructure.
5. Adopt a coordinated approach and encourage collaboration, convergence, and synergy among public and private R&D, processing, and marketing agencies at the national, regional, state, and sub-state levels;
6. Promote FPOs and their collaboration with Market Aggregators (MAs) and Financial Institutions (FIs) to support farmers and provide adequate returns.
7. Encourage capacity-building and human resource development at all levels, including changes to the syllabus and curriculum of graduation courses at colleges, universities, ITIs, and polytechnics as appropriate.
The NHB's main goals are to improve the integrated development of the horticulture industry and to assist in the coordination, maintenance, and processing of fruits and vegetables.
Read More: https://tractornews.in/articles/startup-em3-agriservices-is-tackling-farmer-s-distress/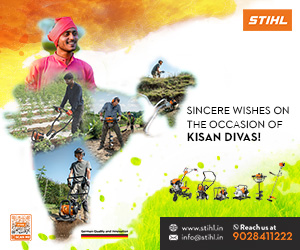 Tractors by Brand