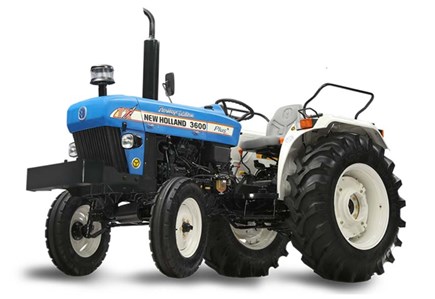 New Holland 3600 TX Heritage Edition is a 47 HP tractor, with 3 cylinders with an engine capacity of 2700 CC and its engine-rated RPM is 2250. It comes with a Single/Double (optional) clutch, has 8 Forward + 2 reverse gearboxes. It is manufactured with Mechanical, Real Oil Immersed Brakes, with a 47-litre large fuel tank capacity for long hours on farms.
NEW HOLLAND 3600 TX Heritage Edition Feature: -
The Heritage Edition has a Max useful power - 43hp PTO, Power & 38.32hp Drawbar Power, Max Torque - 167.9 Nm and Eptraa 7 speeds PTO
Independent PTO Clutch Lever is quite easy to engage and the PTO shaft is controlled with a separate clutch.
Fully Constant Mesh AFD Transmission is avoiding the vibrations and noise helical gears are used, it creates less noise and its mechanical efficiency is high as compared to other transmission systems.
HP Hydraulic with Lift-O-Matic to lift and return the implement to the same depth and having a lock system for better safety.1800 KG Lift Capacity makes field implement operation easy.
Multi-sensing with DRC Valve benefits in enhancing machine productivity, enhancing speed control, reducing heat generation and improving system efficiency.
Straight Axle Planetary Drive system could be used to secure higher gear ratio in compact space and have higher torque transmission capability and will have lower inertia.
With the 8 Forward + 8 Reverse Synchro Shuttle, Operators can easily select speeds or switch directions without having to completely stop the tractor.
The Heritage edition has a SOFTEK Clutch useful for very smooth functioning.
It has a Double Metal Face designed for use under severe service conditions at relatively low circumferential speeds. They offer reliable protection against solid and liquid contaminants as well as leak-proof retention of lubricants. 
The Heritage addition has a Transmission for both PTO & Rear Axle for smooth field operations.
New Holland 3600 TX Heritage Edition Basic Information
Brand

NEW HOLLAND

Variant

2WD

Horse Power

47 HP

Starting Price

6.5L

Max Price*

7L

Warranty*

6000Hours/ 6 Years
New Holland 3600 TX Heritage Edition Engine
No of Cylinders

3

HP Category

47 HP

Max PTO HP

43 HP

Engine

2700 CC

Coolant

NA

Air Filter

Oil Bath with Pre Cleaner
New Holland 3600 TX Heritage Edition Transmission
Transmission Type

Fully Constant mesh AFD

Clutch

Double/Single (Optional)

Gear Box

8Forward +2 Reverse/ 8+8 Synchro Shuttle*

Battery

75 Ah

Aattery

35 Amp

Forward Speed Minimum

3 Kmph

Forward Speed Maximum

33.24 Kmph

Reverse Speed Maximum

10.88 Kmph
New Holland 3600 TX Heritage Edition Brakes and Steering's
Brakes Type

Mechanical, Real Oil Immersed Brakes

Staring Type

Power
New Holland 3600 TX Heritage Edition Power Take Off and Fuel Tank
Power Take off Type

Multi Speed PTO

RPM

540, 540 E, Reverse PTO

Fuel Tank

46L
New Holland 3600 TX Heritage Edition Weight and Dimension
Total Weight

2040 Kgs

Wheel Base

1955 MM

Overall Length

3590 MM

Overall Width

1725 MM

Ground Clearance

425 MM
New Holland 3600 TX Heritage Edition Wheels, Tyres and Accessories
Lifting Capacity

1800 Kgs

3 Point Linkage

HP Hydraulic with Lift-O-Matic; Multi Sensing Point

Wheel Drive

2 WD

Front

6.5 x 16/ 6.5 x 16 (Optional)

Rear

13.6 x 28/14.9 x 28 (Optional)

Accessories

Front Bumper, Adjustable hook, Drawbar
Additional Features
Super Deluxe Seat, Clutch Safety Lock, Neutral safety Lock, Mobile charging Point