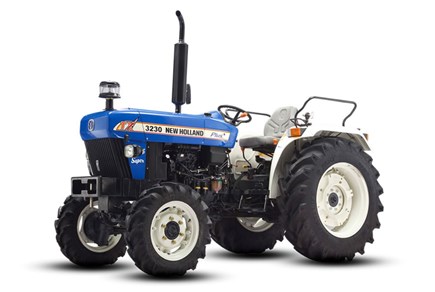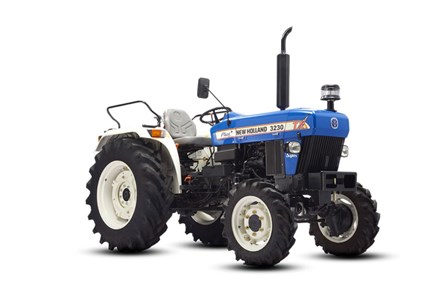 New Holland 3230 TX SUPER is a 45 HP tractor, with 3 cylinders with an engine capacity of 2500 CC and its engine rated RPM is 2000. It comes with a Single/Double (optional) clutch, has an 8F+2R/ 8+8 Synchro Shuttle Gearbox. It is manufactured with Mechanical, Real Oil Immersed Brakes, with a 46-litre large fuel tank capacity for long hours on farms.
The Quality Features-
It has a Max useful power - 38hp, Eptraa 7 speeds PTO, 35.4hp Max and Torque - 160.7 Nm
The Drawbar Power has high pull-in forces and compact dimensions and Lower release forces which results in less spindle bearing load and the opportunity to use smaller unclamping units; Easier to balance due to smaller masses.
The Independent PTO Clutch Lever is quite easy to engage and the PTO shaft is controlled with a separate clutch.
It has a SOFTEK Clutch useful for very smooth functioning.
The Fully Constant Mesh AFD Transmission is avoiding the vibrations and noise helical gears are used, it creates less noise and its mechanical efficiency is high as compared to other transmission systems.
The HP Hydraulic with Lift-O-Matic to lift and return the implement to the same depth and having a lock system for better safety.1800 KG Lift Capacity makes field implement operation easy.
The Multi-sensing with DRC Valve benefits in enhancing machine productivity, enhancing speed control, reducing heat generation and improving system efficiency.
A planetary gear system could be used to secure a higher gear ratio in compact space and have higher torque transmission capability and will have lower inertia.
The Double Metal Face sealing in Trans. - PTO & Rear Axle
With the 8 Forward + 8 Reverse Synchro Shuttle, Operators can easily select speeds or switch directions without having to completely stop the tractor.
The Min turning radius - 2.8mt helpful in operating implement in a small farm with more efficient way.
New Holland 3230 TX Super (4WD) Basic Information
Brand

NEW HOLLAND

Variant

4WD

Horse Power

42 HP

Starting Price

6L

Max Price*

7L

Warranty*

6000 Hours or 6 Year
New Holland 3230 TX Super (4WD) Engine
No of Cylinders

3

HP Category

42 HP

Max PTO HP

39 HP

Engine

2500 CC

Coolant

Water Cooled

Air Filter

Oil Bath with Pre-Cleaner
New Holland 3230 TX Super (4WD) Transmission
Transmission Type

Fully Constant Mesh AFD

Clutch

Single/Double

Gear Box

8F+2R/ 8+8 Synchro Shuttle

Battery

75 Ah

Aattery

35 Amp

Forward Speed Minimum

2.92 Kmph

Forward Speed Maximum

33.06 Kmph

Reverse Speed Maximum

13.24 Kmph
New Holland 3230 TX Super (4WD) Brakes and Steering's
Brakes Type

Mechanical, Real Oil Immersed Brakes

Staring Type

Mechanical/Power Steering (optional)
New Holland 3230 TX Super (4WD) Power Take Off and Fuel Tank
Power Take off Type

Live Single Speed PTO

RPM

540

Fuel Tank

42L
New Holland 3230 TX Super (4WD) Weight and Dimension
Total Weight

1760 Kgs

Wheel Base

1910 MM

Overall Length

3270 MM

Overall Width

1682 MM

Ground Clearance

385 MM

Turning Radius with Brakes

3010 MM
New Holland 3230 TX Super (4WD) Wheels, Tyres and Accessories
Lifting Capacity

1500 Kgs

3 Point Linkage

Automatic Depth and Draft Control, Mixed Control, Lift- O-Matic, Response Control, Multiple Sensitivity Control, Isolator Valve.

Wheel Drive

4 WD

Front

8.3 x 24 (4WD MHD)

Rear

13.6 x 28

Accessories

Tools, Bumper, Top Link, Ballast Weight, Canopy, Drawbar, Hitch
Additional Features
Bharat TERM III A Engine - Powerful and pulling power. Oil Immersed Disc Brakes - Effective & efficient braking. Side-shift Gear Lever - Driver Comfort. Anti-corrosive Paint - Enhanced life. Diaphragm Clutch - Smooth gear shifting. Economy P.T.O - Fuel efficiency. Wider Operator Area - More space for the operator.