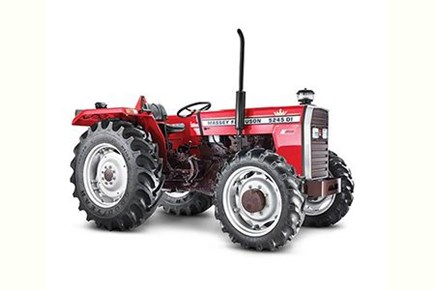 Massey Ferguson MF 5245 DI 4WD
50HP, 2700 CC
Massey Ferguson 5245 DI 4WD hp is a 50 HP Tractor. Massey Ferguson 5245 DI 4WD engine capacity is 2700 CC and has 3 Cylinders generating exceptional engine rated RPM this combination is very nice for the buyers.
Quality Specifications:
Massey Ferguson 5245 DI 4WD new model tractor has a dual dry type clutch, which provides smooth and easy functioning.
Massey Ferguson 5245 DI 4WD steering type is Power Steering from that tractor get easy to control and fast response.
The tractor has Oil Immersed Brakes which provide high grip and low slippage.
It has a hydraulic lifting capacity of 1700 kg and Massey ferguson5245 DI 4WD mileage is economical in every field.
These options create it sensible for implements like cultivator, rotavator, plough, planter and others. 
MF 5245 DI 4WD Basic Information
Brand

MASSEY FERGUSON

Variant

4WD

Horse Power

50 HP

Starting Price

8L

Max Price*

8L

Warranty*

2100 or 2 Year
MF 5245 DI 4WD Engine
No of Cylinders

3

HP Category

50 HP

Max PTO HP

42 HP

Engine

2700 CC

Coolant

Water Cooled

Air Filter

Dry Air Cleaner
MF 5245 DI 4WD Transmission
Transmission Type

Partial constant mesh

Clutch

Dual

Gear Box

8 Forward + 2 Reverse

Battery

12 V 75 Ah Battery,

Aattery

12 V 36 A Alternator

Forward Speed Maximum

34.8 Kmph
MF 5245 DI 4WD Brakes and Steering's
Brakes Type

Oil immersed brakes

Staring Type

Power Steering
MF 5245 DI 4WD Power Take Off and Fuel Tank
Power Take off Type

GSPTO, Six-splined shaft

RPM

540 RPM @ 1790 ERPM

Fuel Tank

47L
MF 5245 DI 4WD Weight and Dimension
Total Weight

2450 Kgs

Wheel Base

1970 MM

Overall Length

3365 MM

Overall Width

1735 MM

Ground Clearance

380 MM
MF 5245 DI 4WD Wheels, Tyres and Accessories
Lifting Capacity

1700 Kgs

3 Point Linkage

Draft, position and response control. Links fitted with CAT-1 and CAT-2 balls (Combi Ball)

Wheel Drive

4 WD

Front

8.30 x 24 (21.08 cm x 60.96 cm) Front

Rear

14.9 x 28 (37.85 cm x 71.12 cm) Rear

Accessories

Tool, Toplink, Canopy, Hook, Bumpher, Drawbar
More Tractors from MASSEY FERGUSON