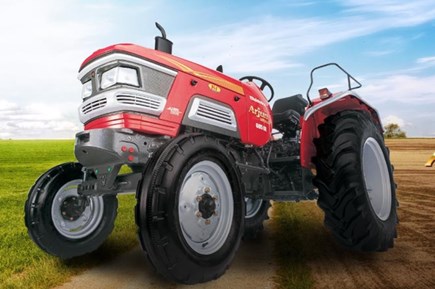 Mahindra Arjun Ultra - 1 605 DI 4 Cylinders and a 3531 CC engine capacity tractor. It is a 57 HP tractor with 2100 engine rated RPM. It has a Powerful and Stylish tractor is designed to perform multiple tasks and take on the rigours of work with ease. These tractors are fitted with a high-performance engine, easy shift transmission, advantageous single speed PTO and high lift capacity. It specializes in all kinds of farming operations, ranging from primary to secondary tillage to crop protection. Other operations like material handling and transport can be carried out efficiently.
The Quality Specifications:
The Big tyres Provide better traction and less slippage in field operations.
The Dual Acting Power Steering for Easy and precise steering is suitable for comfortable operations and longer work duration.
High Precision Advanced Hydraulics makes a fast-response hydraulic system that detects changes in soil conditions for precise lifting and lowering in order to maintain a uniform soil depth.
It has an L1 Speed system which is Suitable for the reaper.
It has an Excellent Drawbar strength for Dozer.
It has a High Engine torque which helps do more with excellent quality and Extra stability with power to pull an extra load
It has a laser leveller for Optimum performance.
It has a 3MB reversible Plough which is the Best in class power to pull, the Highest drawbar pull.
Mahindra Arjun Ultra - 1 605 DI Basic Information
Brand

MAHINDRA

Variant

2WD

Horse Power

57 HP

Starting Price

7.5L

Max Price*

8L

Warranty*

2000 hours/ 2 Years
Mahindra Arjun Ultra - 1 605 DI Engine
No of Cylinders

4

HP Category

57 HP

Max PTO HP

48 HP

Engine

3531 CC

Coolant

Water Cooled with coolant reserve overflow

Air Filter

Dry type
Mahindra Arjun Ultra - 1 605 DI Transmission
Transmission Type

Full Constant Mesh

Clutch

Wet Type Double Friction Plate Single / Dual

Gear Box

8 Forward + 2 Reverse

Battery

12 V 75 Ah

Forward Speed Minimum

2.8 Kmph

Forward Speed Maximum

31 Kmph

Reverse Speed Maximum

12.2 Kmph
Mahindra Arjun Ultra - 1 605 DI Brakes and Steering's
Brakes Type

Oil Immersed Brakes

Staring Type

Mechanical /Dual Acting Power Steering
Mahindra Arjun Ultra - 1 605 DI Power Take Off and Fuel Tank
Power Take off Type

6 Spline

RPM

540 single & Revers PTO

Fuel Tank

65L
Mahindra Arjun Ultra - 1 605 DI Weight and Dimension
Total Weight

2450 Kgs

Wheel Base

2125 MM

Overall Length

3480 MM

Overall Width

1965 MM

Ground Clearance

445 MM

Turning Radius with Brakes

2255 MM
Mahindra Arjun Ultra - 1 605 DI Wheels, Tyres and Accessories
Lifting Capacity

1650 Kgs

3 Point Linkage

Category II, Automatic Depth and Draft Control

Wheel Drive

2 WD

Front

7.5 X 16

Rear

16.9 X 28