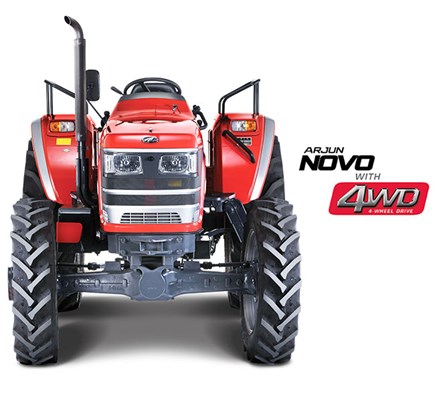 ARJUN NOVO 4WD is a 41.6 kW (55.7 HP) technologically advanced tractor that can handle 40 farming applications which include puddling, harvesting, reaping and haulage amongst others. It is loaded with features such as a lift capacity of 2200 kg, advanced synchromesh 15F + 15R transmission and the longest service interval of 400 hours. It delivers uniform and consistent power with minimum RPM drop in all application and soil conditions. Its high lift capacity hydraulic system makes it suitable for numerous farming and haulage operations. An ergonomically designed operator station, low maintenance and best in class fuel efficiency in the category are some of the key highlights of this technologically advanced tractor.
The Quality Specification-
The One lever used for reversing tractor in the same speed, For faster working in agri handling applications, Easy and comfort operation for long working hours, Speed options: 1.69 Min. km/h & 33.23 Max. km/h, Synchro Shuttle (15 Forward + 15 Reverse gears).
This makes the tractor use power on all the wheels, Better technology for increased productivity, enhanced driving comfort and control in muddy & heavy applications, Optimum performance in wetland applications & material handling purposes, Tyre ( front ) - 9.5 X 24.
It comes with a fast-response hydraulic system that detects changes in soil conditions for precise lifting and lowering in order to maintain a uniform soil depth.
With a 306 cm clutch that is the largest in its category, It enables effortless clutch operation and minimizes clutch wear and tear.
It has a high operator seating that channelizes the hot air from the engine to escape from below the tractor so that the operator can enjoy a heat-free sitting environment.
The air cleaner is the biggest in its category which prevents choking of the air filter and guarantees the hassle-free operation of the tractor, even during dusty applications.
It has boasts of synchromesh transmission that guarantees smooth gear changes and comfortable driving. A guide plate ensures that the gear lever always stays in the straight line groove for timely and accurate gear changes.
Experience anti-skid braking, even at higher speeds, with its superior ball and ramp technology braking system. The 3 brakes on either side of the tractor and a large braking surface area of 1252 cm2 ensure smooth braking.
It allows the operator to save maximum fuel by choosing the economy PTO mode during times of low power requirement.
ARJUN NOVO 605 DI–i-4WD Tractor Basic Information
Brand

MAHINDRA

Variant

4WD

Horse Power

57 HP

Starting Price

8.85L

Max Price*

10L

Warranty*

2000 hr/2 year
ARJUN NOVO 605 DI–i-4WD Tractor Engine
No of Cylinders

4

HP Category

57 HP

Max PTO HP

50 HP

Engine

3531 CC

Coolant

Forced circulation coolant

Air Filter

Dry type with clog indicator
ARJUN NOVO 605 DI–i-4WD Tractor Transmission
Transmission Type

Mechanical , Synchromesh

Clutch

Dual diaphragm type

Gear Box

15 F + 15 R

Battery

NA

Aattery

NA

Forward Speed Minimum

1.71 Kmph

Forward Speed Maximum

33.5 Kmph

Reverse Speed Maximum

33.23 Kmph
ARJUN NOVO 605 DI–i-4WD Tractor Brakes and Steering's
Brakes Type

Dry / Oil Immersed multi disc breaks

Staring Type

Mechanical / Power Steering
ARJUN NOVO 605 DI–i-4WD Tractor Power Take Off and Fuel Tank
Power Take off Type

6 Spline

RPM

SLIPTO, 540 + R/540 + 540E

Fuel Tank

66L
ARJUN NOVO 605 DI–i-4WD Tractor Weight and Dimension
Total Weight

2130 Kgs

Wheel Base

2145 MM

Overall Length

3660 MM
ARJUN NOVO 605 DI–i-4WD Tractor Wheels, Tyres and Accessories
Lifting Capacity

2200 Kgs

3 Point Linkage

Draft , Position and Response Control Links

Wheel Drive

4WD

Front

9.5 X 24 (8 PR)

Rear

16.9 X 28 (12 PR)