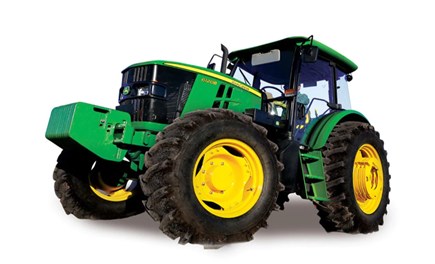 John Deere 6120B is 4 Cylinders and has a 4000 CC engine capacity tractor. It is a 120 HP tractor with 2400 engine rated RPM. It is a Super Heavy Duty 120 HP tractor built with exceptional quality and engineering. Equipped with 4 cylinders and a turbocharged John Deere PowerTech™ engine, it delivers extraordinary power suitable for all hard-to-handle heavy-duty operations. It is best suitable for large-scale potato plantation and forage harvesting and compliments big implements like power & disc harrow, heavy load trolley.
The Quality Specifications :
It has a High PTO power with Powerful Hydraulics with a Lift Capacity of 3650 Kgf can easily work on a higher capacity of implementation.
The Bigger Tires for higher traction.
It has a spacious Operator station that helps in reducing fatigue and improving efficiency.
The 320° wide view angle helps the operator to make field operation easier.
The Power Core air Filter ensures 99.99% clean air.
It has a Dual Speed PTO for according to the need of the implementation.
It has a Isolated sealed glass cabin for better comfort.
It has a Swinging out the rear door for excellent visibility.
The Steps on both sides for ease of entry/ Exit.
It has a Inbuilt speaker with provision to install music system.
It has a Large lockable doors on both sides.
It has a Adjustable Deluxe seat with armrest and seatbelt.
The AC heater and blower in the cabin and Roof with dome light and 6AC vent for even distribution.

It has a Elegant instrument cluster with digital Hour meter.
The Self-adjusting, self-equalizing, Hydraulically actuated Oil Immersed Disc Brake for Secure, Durable, no need to change gear often.
It has a Power steering with more stability and hard work.
Factory Fitted Options:
Standard 2 SCVs
John Deere 6120 B (4WD-AC CAB) Basic Information
Brand

JOHN DEERE

Variant

4WD+AC

Horse Power

120 HP

Starting Price

25L

Max Price*

26L

Warranty*

5000 Hours/ 5 Years
John Deere 6120 B (4WD-AC CAB) Engine
No of Cylinders

4

HP Category

120 HP

Max PTO HP

102 HP

Engine

4000 CC

Coolant

Liquid Cooled

Air Filter

Dual Element with add-on pre cleaner
John Deere 6120 B (4WD-AC CAB) Transmission
Transmission Type

Top Shaft Synchromesh

Clutch

Dual

Gear Box

12 forward + 4 Reverse

Battery

12 V 135 Ah

Aattery

12 V 90Amp, 2.5 kW Starter Motor

Forward Speed Minimum

3.1 Kmph

Forward Speed Maximum

30.9 Kmph

Reverse Speed Maximum

31.9 Kmph
John Deere 6120 B (4WD-AC CAB) Brakes and Steering's
Brakes Type

Oil immersed Disc Break

Staring Type

Power
John Deere 6120 B (4WD-AC CAB) Power Take Off and Fuel Tank
Power Take off Type

Independent, 6 Splines/ 21 Splines (Dual Speed PTO)

RPM

540 RPM/ 1000 RPM

Fuel Tank

220L
John Deere 6120 B (4WD-AC CAB) Weight and Dimension
Total Weight

4500 Kgs

Wheel Base

2560 MM

Overall Length

4410 MM

Overall Width

2300 MM

Ground Clearance

470 MM
John Deere 6120 B (4WD-AC CAB) Wheels, Tyres and Accessories
Lifting Capacity

3650 Kgs

3 Point Linkage

Category II, Automatic Depth and Draft Control

Wheel Drive

4 WD

Front

14.9 x 24

Rear

18.4 x 38

Accessories

Ballast Weights: Front- Max. 12 Nos x 50 Kg each Rear- Max. 8 Nos x 55 Kg each
Additional Features
International Look with attractive gun sight beige color upholstery and interior Stylish tail, head and rear lamps. Mobile charging point with holder. Front wiper, Rear Wiper (optional). Front and rear light for working during night hour. Ergonomic design.