"Vyom" is an e-tractor, that only cost 15rs to run for an hour
Lets discuss the sucess story of "Vyom" an E- Tractor made by a farmer.
Mahesh Bhut, 34, hailing from Jamnagar, Gujarat, used to help his father in farming since childhood. While working with his father, he always thought of easing the problems of farming. After completing his studies in the year 2014, when he got fully involved in agriculture, he decided to adopt organic farming to reduce the cost of pesticides and fertilizers.
Also, when he recognized that quite a high amount was being spent on tractor maintenance and petrol and diesel. So, he himself made an e-tractor. His tractor named 'Vyom' is which is getting a lot of attention on the social media nowadays. And happily, Mahesh Bhai has so far received orders for about 21 e-tractors from across the country. Which is definitely a very good number in terms of being new in the tractor market.
You might get surprised to know that Mahesh Bhai is neither an engineer nor does he live in a big city. While living in the village, he has made this e-tractor by spending about five lakh rupees.
Once in a media interaction, he mentioned, "My father was also an educated farmer. That's why he always kept guessing about investment in agriculture and its benefits at the end of the year. I learned to do farming from him and also learned from him how to reduce expenses to earn maximum profit.
'Vyom' is Invented to reduce the cost of farming.
He said actually, the idea of ​​making an e-tractor was always in his mind and he was working on it too. When he was not satisfied even after doing many experiments, then he thought of taking training in making e-rickshaw from Uttar Pradesh. He learned to make an e-rickshaw from Shahjahanpur (Uttar Pradesh). However, his motive behind this was to make an e-tractor.
After training in the year 2021, he focused on making e-tractors more actively. He started making this tractor in a new way. From the battery of the tractor to its body, he has made everything himself.
After nearly seven months of hard work and many efforts, they finally got success. He has been using this e-tractor on his farm for the last four months. He named the tractor 'Vyom' after his son.
What is special about this tractor?
Mahesh Bhai claims that the tractor made by him will run comfortably for a full 10 hours on a single charge. He says, "This electric tractor draws 22 hp power, which is powered by a 72-watt lithium battery. This is a good quality battery, which will not require frequent replacement. This tractor takes 4 hours to get fully charged, after which it can last up to 10 hours."
Apart from this, they have also integrated this tractor with an app, from which you will get all the information about the tractor. How many charges are there in the battery? Which wire is wrong? You will get all this information from the app itself.
Tractor News congratulates Mahesh bhut for an amazing creation like "Vyom".
To know More about such amazing creations and other farm machineries stay connected with Tractor News  click the link mentioned below: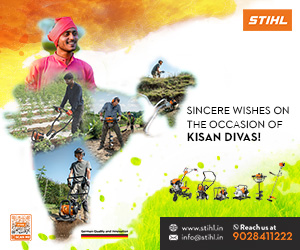 Tractors by Brand