Subsidy for Drones: A 50% subsidy will be provided to promote drone technology in agriculture.
Drone Technology Will Be Used In Agriculture In Andhra Pradesh.
The Andhra Pradesh government made a big announcement for the youth on Independence Day to promote the use of drones, the state's most recent invention in modern technology. Drones, the most recent discovery of modern technology in agriculture, will be given to youth in the state on a subsidy basis. Drones will play an important role in solving major problems such as pest attacks on crops and pesticide spraying in agriculture as a result of this.
Farmers will be able to purchase these drones at a low cost. Farmers' income will rise as production rises.
Subsidized drones will be distributed to youth, and new job opportunities will be created.
Apala Raju, Minister of Animal Husbandry, Fisheries, and Dairy Development in Andhra Pradesh, said after unfurling the national flag at the 75th Independence Day celebrations that "Drone technology will be fully adopted in the state's agriculture and allied sectors. Drones will be provided at no cost to farmer groups and youth with agricultural science degrees."
"Youth with a degree in agricultural science will receive a 50% discount on drone purchases. This will encourage the use of drones in the state while also creating new job opportunities."
The Central Government Is Encouraging The Use Of Drones.
Due to the increasing use of drone technology in agriculture, the central government is providing farmers with a subsidy of up to 100%, or a maximum of 5 lakhs, on their purchases, so that the farmers' income can be doubled. The use of drones will also result in new job opportunities. Aside from that, Agricultural Machinery Training and Testing Institutes, 'Krishi Vigyan Kendras', ICAR Institutes, and State Agricultural Universities are training educated youth to fly drones so that they can operate them easily.
Read More: Drones in Agriculture- Scouting, Mapping, and Plant Health
Advantages of using drones in agriculture
He furthermore stated that "The use of drone technology in agriculture will usher in a new era of the agricultural revolution, because farmers face numerous challenges in all aspects of agricultural work, from sowing crops to caring for standing crops."
It has also been observed on numerous occasions in agriculture that farmers are unable to spray fertilizers and other pesticides on the entire crop promptly. But, thanks to drone technology, we will be able to spray urea and other insecticides on standing crops quickly and easily. Farmers will save time.
Along with this, pesticides, medicines, and fertilizers will be saved. Farmers can spray insecticides, medicines, and fertilizers in one acre of the field in five to ten minutes using drones.
Farmers will be able to spray the prescribed amount on the affected area effectively as a result of this. They will also not be required to enter the farm. By flying the drone to a certain height and using auto sensors, the farmer can easily spray up to 10 liters of insecticide on standing crops.
Read More: Everything You Should Know About Drone Pilot Training Programs Available In India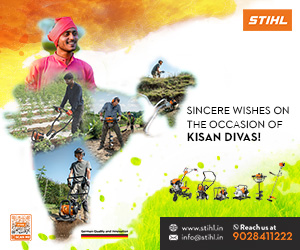 Tractors by Brand