Pradhan Mantri Krishi Sinchayee Yojana- Get 90 Percent Subsidy On Drip And Sprinkler Irrigation
Subsidies Will Be Available For These Pieces Of Equipment; Interested Farmers Should Apply Online
Under the Pradhan Mantri Krishi Sinchai Yojana, the Bihar government will grant farmers up to 90% of the cost of installing drip and sprinkler irrigation systems. The Bihar Horticulture Department has been given an order in this regard. Following the issuance of the order, the department began the process of registering farmers.
Interested farmers can apply by visiting the Horticulture Department of Bihar's official website at http://horticulture.bihar.gov.in. In addition, irrigation equipment can be subsidized. DBT will be used to distribute the amount of subsidy to farmers. Let's learn more about the scheme in this Tractor News article.
Subsidies of up to 90% are available to all types of farmers.
A provision has been made under the Prime Minister's Irrigation Scheme to provide a 90 percent grant-in-aid to all categories of farmers under drip irrigation systems and sprinkler irrigation systems, while also providing additional top-up to farmers.
 The Bihar government is encouraging all categories of farmers, including SC, ST, and women farmers, to do more production with less water by making proper plan to use minimum water under the Prime Minister's Irrigation Scheme.
Advantages of Drip Irrigation System and Sprinkler Irrigation System
This irrigation method uses 60% less water than traditional irrigation.
At the same time, this irrigation system helps in increasing crop productivity by 40-50 percent while maintaining high product quality. This saves approximately 25-30% of fertilizer.
Weed deposition is reduced by 60-70% using this irrigation system.
As a result, labor costs are reduced, and disease outbreaks on plants are reduced.
For your information, drip irrigation systems, sprinkler irrigation systems, and rain gun irrigation systems are examples of micro irrigation systems.
Read more:  Apply Now To Get Up To 80% Subsidy On More Than 10 Pieces Of Agricultural Equipment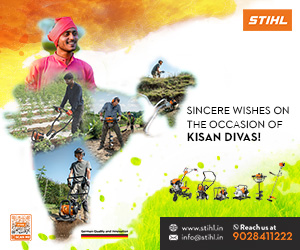 Tractors by Brand