PM Talks About Natural Farming
The Indian Government has been trying to encourage organic farming among the population. Agriculture contributes greatly to the economy of the country. But lately, the excessive usage of chemical inputs has led to stress in the soil. The salinity levels of the Indian soils are at an all-time high and restoring soil health has become crucial to ensure that our population does not go hungry. Keeping that in mind, the Centre has introduced various schemes like Paramparagat Krishi Vikas Yojana (PKVY), Mission Organic Value Chain Development for North Eastern Region (MOVCDNER).
Organic farming is a sustainable agriculture method that promotes the use of organic or bio inputs while also caring for the environment, including soil, biodiversity, and human health. Organic farming also helps to mitigate the greenhouse effect and global warming by allowing carbon to be sequestered in the soil (FAO). Carbon has often been touted as an 'evil' element that causes all of the problems in pollution but it is in actuality an incredible resource for the soil. Ensuring a good carbon content in the soil will allow our crops to grow and flourish very well.
The Indian farming community is in desperate need of a revival. The Indian soils also need rejuvenation in terms of the soil microbiome as well. The flora and fauna needs to be preserved for healthy soil development as well.
The Prime Minister's Address about the need for Organic Farming comes just in time for the Uttar Pradesh elections. Beginning February 10, elections for the 403 Assembly constituencies in Uttar Pradesh will be held in seven phases. In Uttar Pradesh, voting will take place in seven rounds on February 10, 14, 20, 23, 27, and March 3 and 7. Since the Election Commission (EC) released the calendar for the Assembly elections in five states, including Uttar Pradesh, this is PM Modis' first political interaction with party workers.
Due to the continuing COVID-19 pandemic, the Election Commission of India (ECI) has stopped all physical rallies until January 22. And the Prime Minister has addressed his audience online as well. He addressed his party workers, reminding them that each vote is necessary via the Namo app.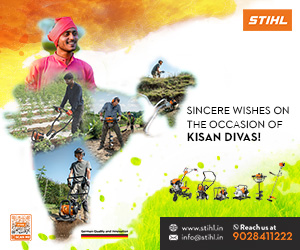 Tractors by Brand