New Varieties Of Oats, wheat And Rice By MP University
An official said on Saturday that a state-run agricultural institution in Madhya Pradesh's Jabalpur has created new types of oats, wheat, rice, and niger crop that are suited for cultivation in other states as well. The Jawaharlal Nehru Krishi Vishwavidyalaya (JNKVV) has created two oat and wheat varieties, one rice variety, and three niger types that have been approved by the Centre as acceptable for production, according to vice-chancellor Dr. P K Bisen of the institution.
The novel cultivars were put to the test over a three-year period in a variety of agro-climatic conditions in distinct crop-growing areas throughout several states. According to him, JO 05-304 is good for production in Maharashtra, Gujarat, Chhattisgarh, Madhya Pradesh, and Rajasthan, while JO 10-506 is suitable for production in Odisha, Bihar, Jharkhand, Uttar Pradesh's eastern area, Assam, and Manipur.
These novel crops combine a number of desired characteristics, including high grain yield, disease resistance, superior grain quality, and a quick harvest period. And this can indeed be a boon for India's agriculture sector which already faces problems of poor yields. It can be helpful to the farmers in order to generate proper income and help support their allied activities.
The farming community in India is already facing multiple problems and is nowhere near the standard of what developed nations have. India needs to be efficient in its food production strategies as the second most populated nation in the world. We need to be able to match up to our food demands; ensuring that our agriculture strategies are molded in the same way as the demand for the product is.
They claim that the novel wheat varieties MP 1323 and MP 1358, as well as the rice JR 10, can be cultivated in specified parts of Madhya Pradesh. Dr. Koutu noted that three niger (ramtil) types - JNS 521, JNS 2015-9, and JNS 2016-1115 - are suited for irrigated and non-irrigated areas of Madhya Pradesh and Chhattisgarh. Introducing all these varieties in different states will allow the farmers to be a part of an inclusive growth regime and no farming community will be left behind.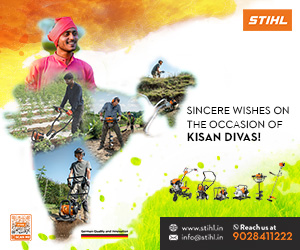 Tractors by Brand