It Is Now Easier Than Ever To Establish A Biogas Plant, As The Government Will Provide A Subsidy Of Up To Rs 4 Lakh
Farmers Will Obtain Energy from Cow Dung and Will Know Where to Apply It
The Haryana Government has begun preparations to ensure the success of the Central Government's Natural Farming Scheme. The Haryana government recently announced a grant for the establishment of a biogas plant to provide good employment in rural areas while also assisting financially. In which the Biogas Plant Mission was launched to encourage organic farming by making the best use of available resources by increasing agricultural producers and lowering the cost of farming and farming within the state.
By establishing 80 cubic biogas plants, dairy farmers and Gaushala operators can receive a 40% grant from the Haryana government, ranging from Rs 3 lakh 95 thousand 600 to approximately Rs 4 lakh.
Subsidy on Bio-Gas Plants 
Milk dairies and Gaushalas can receive a 40% subsidy by constructing biogas plants with capacities of 25, 35, 45, and 85 cubic meters. The majority of farmers produce vermi-compost organic manure using biogas plants. Agriculture does not spend much money on bio-fertilizers. At the same time, the government offers farmers financial incentives to practice organic farming.
Opportunities for dairy and cowshed operators have improved
Dairy and livestock farmers can easily dispose of dung from 70 to 80 animals in a 25 cubic meter biogas plant, 100 to 110 animals in a 35 cubic meter plant, and 125 to 140 animals in a 45 cubic meter plant. Similarly, to set up a plant with a capacity of 85 cubic meters, 175 to 180 cattle dung is required for 60 cubic meters, while 250 to 270 animal dung is required.
How To Apply For Subsidy On Biogas Plant
According to the Haryana government, a grant of Rs 3 lakh 95 thousand 600, or approximately 4 lakh, can be obtained to create biogas. Applications for the establishment of a biogas plant can be submitted to the project officer. For more information, go to https://hareda.gov.in/, the official website of the New and Renewable Energy Department and the Haryana Renewable Energy Development Agency.
Read more: Apply Now For A 25% Subsidy On The Establishment Of A Maize Processing Unit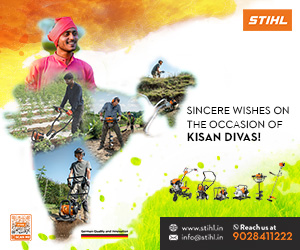 Tractors by Brand