Farmer To Design Agriculture Syllabus
Education is not just relegated to textbooks. This adage now has a new meaning thanks to the farmer HukumChand Patidar, hailing from Rajasthan. The man had left formal education after completing his tenth standard in order to work in the fields. And what has the years of experience brought forth to him? Well, his contribution in the agriculture sector has ensured that he will be on the boards with scientists and researchers who are designing India's agriculture curriculum for university students.
The farmer's contribution in the field of Organic farming has made him an expert in this regard. He is known for growing fennel, coriander, oranges, onions, and pulses. Knowing that his insight would prove to be valuable, he is now on the team designing what agriculture graduates in India will be learning next. Patidar's produce is mainly exported to Europe considering the demand for organic produce in the developed nations. He has successfully managed to create his village of Manpura into a chemical-free organic farming zone. This is an impressive feat and can also serve as a blueprint for farmers who are looking to follow in their footsteps. Organic farming is indeed the need of the hour as our soil status is depleting with every passing minute.
Patidar has been conferred the Padma Shri award for his contribution to the farming community. Organic farming is becoming a global concern with every passing day and we need our farmers to be included in the fold of natural farming. There has always been a stigma associated with natural farming with regard to yield. Farmers like Patidar who run a successful Organic Farming business are able to bust that myth as well.
Moreover, the experienced farmer has very clear ideas on how he will be contributing to the farming curriculum. He believes in deriving nutrition from cow dung, particularly the five elements present in cow dung referred to as the panch gavya. He wants to highlight the importance of restoring soil health and having a functional microbiome in the soil. This can be a huge bonus for the agriculture students who can definitely learn from his expertise and knowledge in the fields.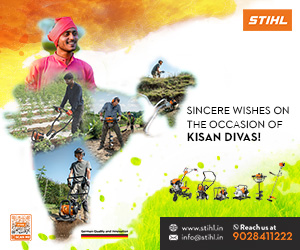 Tractors by Brand