Center's Gift to Agriculture Sector: New Tractors Now Available Faster Than Before
Testing Time Reduced to 75 Days
Here's everything you need to know about the most recent tractor testing policy change.
The Central Government has announced a policy shift in response to technological advancements and other significant developments in India.
The Department of Agriculture and Farmers Welfare is making improvements and implementing new policies to improve and meet demands at the same rate as technological and mechanical progress.
What Are the Policy Updates
By making an important decision, the Union Ministry of Agriculture (Ministry of Agriculture) has reduced the testing time of tractors. Testing will now be completed in 75 days rather than 9 months. As a result, new tractor models will soon be available in agriculture.
Companies will be able to introduce new tractors into the market based on farmer convenience and new technology. When a new tractor is introduced to the market, it is tested in Budni, Madhya Pradesh. Budani is home to the Union Ministry of Agriculture's Central Farm Machinery Training and Testing Institute (CFMTTI).
Read more: PM Kisan Tractor Scheme 2022
As part of 'Azadi's Amrit Parva', the government has given this gift to farmers and tractor companies. Tractor technology has advanced significantly in the last few years. Electric and CNG tractors are now available on the market. So that farmers do not have to pay for diesel. Some universities also involve engineering students in the development of tractors to meet the needs of farmers. In such a case, the government's decision will be a huge relief.
Every year, approximately eight lakh tractors are sold.
Tractor sales are directly related to agricultural progress. Farmers purchase tractors when they have money. A tractor costs around 8 lakh rupees on average. For the last two or three years, the country has sold an average of 8 lakh tractors per year. Every year, new tractor models and features are introduced.
The era of small tractors is rapidly approaching. Because agricultural holdings in India are declining. Farmers will now receive their tractors more quickly as a result of the government's decision. Tractors are also a major export from India. Now, Indian tractor manufacturers will be able to develop and sell new models for export as soon as possible.
The fast-testing method gives way for better results in less time and even assists manufacturers in developing the most recent psychological aspects and determinants of the country's farmers and their needs.
Read more: ISOPOM: Here's Everything You Need To Know About This Agriculture Scheme.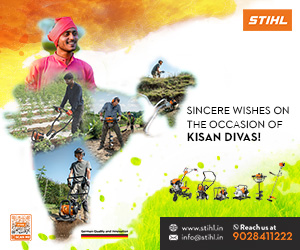 Tractors by Brand