Yuvo Tech+ Series Unveils 6 New Mahindra Tractors
Mahindra Tractors, a division of Mahindra Farm Equipment, unveiled six new tractor models. They'll be unveiled under the Yuvo Tech+ label, which is a tractor platform that debuted last year.
The six new models are in the 37 – 50 HP (27.6 – 36.7 kW) power range and feature 4-wheel drive, dual-clutch, SLIPTO, auxiliary valve, and 2-speed PTO, making them suited for over 30 agro applications. The tractors also have a load-carrying capability of 1,700kg and 12-forward and 3-reverse gears for the four-wheel-drive system, as well as high, medium, and low functionality.
The new tractors are powered by Mahindra's m-ZIP 3-cylinder and ELS 4-cylinder engines, which were designed and developed at Mahindra's Research Valley (MRV) in Chennai. Developments aimed at maximizing power, torque, and mileage.
Tractors Yuvo Tech+
The new Mahindra Tractors are the 275 Yuvo Tech+, 405 Yuvo Tech+, and 415 Yuvo Tech+, which have a 3-cylinder m-ZIP engine, and the 475 Yuvo Tech+, 575 Yuvo Tech+, and 585 Yuvo Tech+, which have a 4-cylinder ELS engine. Mahindra Tractor offers a 6-year warranty to its customers. The high backup torque of the Mahindra Yuvo Tech Plus tractor range is crucial. This enables high performance even when the load changes suddenly and without changing gear. These tractors can attach multiple implements with a minimum rpm decrease of 197 Nm because of their high maximum torque.
Market dominance for tractors
"The Yuvo Tech+ delivers on its brand promise of 'Technology Mein No.1, Har Kam Mein No. 1', resonating strongly with Mahindra Farm Equipment Sector's objective of Transforming farming and enriching lives," stated Hemant Sikka, President – Farm Equipment Sector, Mahindra & Mahindra Ltd. With farmers adopting emerging technology to increase speed and efficiency, the Yuvo Tech+ is the most advanced and adaptable tractor in its sector, designed to provide a winning formula of productivity, comfort, and savings for improved earnings for Indian farmers. We are convinced that the items in the Yuvo Tech+ series will further solidify our leadership position in the tractor market with this introduction."
Read more: https://tractornews.in/articles/top-5-mahindra-tractors-in-india-2022-features-price-and-specifications/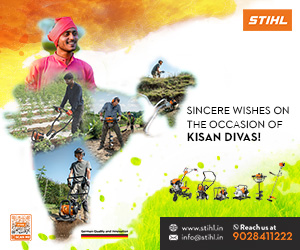 Tractors by Brand