Protect Your Crops Smartly with 'Agrio'- Precision Agriculture
Agrio is the first AI-based alert system in agriculture. Agrio confronts the problems of uncertain weather, crop flies, insects, mites, and monitoring the growth of your crops, Agrio brings forth the ability to monitor crop progress and helps spot problems on time before it becomes too severe.  
Agrio is a precision agricultural way out based on artificial intelligence that allows you to distantly watch, classify, and treat plant ailment and pests in your ground, farm, or garden.
How do Agrio works?  
1. Artificial Intelligence
Agrio uses its artificial intelligence and computer vision techniques, which it develops and implements. The algorithms incorporate the expertise of several agricultural specialists and are constantly improving. Agrio believes that crop protection should be multi-layered.
2. Solutions based on Image analysis
Agrio present you with a diagnostic and a solution based on image analysis. To improve results and lower treatment costs, it gives precise integrated pest management (IPM) techniques.
3. Effortless monitoring of Fields. 
Fields can be monitored without effort. For a good harvest, the capacity to monitor crop progress and recognize problems in the field before symptoms appear is critical. Agrio provides access to satellite imagery so that you may easily monitor problems and growing progress. It sends notifications to subscribers when new satellite data becomes available, as well as Agrio interprets and provide recommendations, once you've specified your field on the map. If the cloud coverage isn't too high, you'll get a new NDVI scan every 3-5 days.
4. Organized field listings
Any subscriber can use satellite data to determine when and where to act. Agrio, scout problematic areas and photograph symptomatic plants.
5. Data on the weather.
Agrio present you with an hourly hyper-local weather forecast that is accurate within a few miles. Users may track the weather at the field level and receive accurate disease and pest notifications.
6. Notifications of impending danger. 
When problems are expected to develop in your region, Agrio send out alert notifications. This enables you to safeguard your plants from harm and take preventative steps as soon as possible.
7. Digital reports that are simple to share. 
Agrio makes it simple and intuitive for field personnel and inspectors to prepare digital screening reports. Voice-based geo-tagged reporting eliminates the need to type, allowing you to swiftly record your observations while leaving your hands free. Even outside of the app, reports are dynamic and easily shareable.
Also Read: https://tractornews.in/articles/apni-kheti-digitalizing-the-agriculture-sector/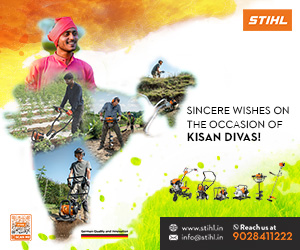 Tractors by Brand