FY 2023- Escorts plans to raise the capital expenditure to Rs. 350- 400 crore.
Escorts, India's fourth-largest tractor maker, has set aside 350-400 crore in capital expenditure for FY 2023, a huge increase from its average annual spend of 200-250 crore. Following an NGT order, the arranged spend will be employed in production, products, and the transfer to gas-based gensets from diesel.
Bharat Madan, the company's chief financial officer, stated in an interview that the outlook for all three of its business verticals — agriculture machinery, construction equipment, and railways — was optimistic because the market was recovering.
The Rise of Tractor Market
Strong crop prices and forecasts of normal precipitation this monsoon season are providing some good results for the farm industry. As an effect of this, farmers are anticipated to spend more on machinery like tractors and other farm equipment.
The tractor market is expected to raise 4-6 percent in the current fiscal year 2023, according to the industry. After rising 26% in FY21, tractor industry volume fell 6.4 percent to 842,000 units in FY22.
"Recovery has kicked-in in the tractor business, and volume-wise the outlook is optimistic this fiscal," Madan said, adding that "commodity/material prices also appear to have peaked in May." Due to the lag effect, it will take 3-4 quarters to recuperate the increase in input costs."
Tractor sales account for approximately three-quarters of Escorts' revenue.
Demand for construction equipment is predicted to rise by double digits in the current fiscal year, owing to increasing government investment in infrastructure projects, particularly in rural areas. Construction equipment sales are expected to climb 15-20 percent in fiscal 2023, compared to an 8% drop the previous fiscal year, according to the industry.
Construction equipment sales are expected to go up in the second quarter of the current fiscal year, according to Escorts.
The Year of Fluctuating Profits
"There is a lot of backlogged demand in the trains as well." With the government's improved focus on infrastructure expansion, we're considering a tight grip in tenders," Madan said.
Given the prospects in the Indian market, Escorts is working on a mid-term business plan with its Japanese partner Kubota. In the following 5-6 months, the investment plan, which details key areas in product and capacity development, is expected to be finalized.
Escorts recorded a 12.4 percent drop in net profit to Rs. 765.6 crore in the previous fiscal year, owing to higher input costs. The company's operating revenue has increased by 3.2 percent to Rs. 7,152.7 crore.
Read more: https://tractornews.in/articles/escorts-kubota-limited-will-be-the-new-name-for-escorts/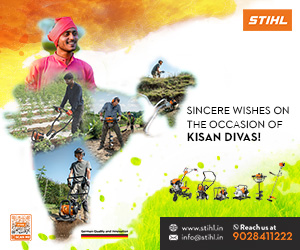 Tractors by Brand